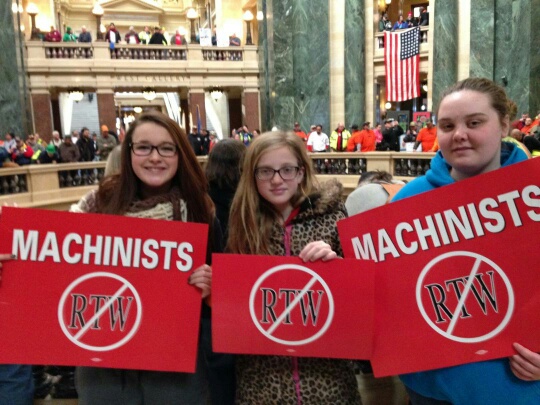 Peyton Maddy Kylee
IAM Daughters along with their parents, participate in the Rally
Rally in the State Capital this Saturday
Bus Trips to Madison on Saturday, February 28, 2015 to protest the Right to Work is Wrong for all Wisconsinites Legislation
All members, family and friends can show up in Madison this Saturday February 28,2015. The Rally begins at noon.
Stay informed about protecting workers rights and who is behind the National Right to Work Committee and their Anti Union Crusade. Follow this story and many others by following the Wisconsin AFL-CIO on FaceBook.

BREAKING: There will be a rally to protest the introduction of Right to Work legislation Tuesday, February 24 and Wednesday February 25 at 12:00 p.m. at the state Capitol. We must stand together for our rights as workers and raise our voices in our democracy to stop Right to Work legislation from moving forward in Wisconsin.

WHAT: Rally to Oppose Right to Work
WHEN: 12:00 p.m. Tuesday February 24 and 12:00 p.m. Wednesday February 25
WHERE: State Street Side of the Capitol

The Senate Committee on Labor and Government Reform will be holding a hearing Tuesday, February 24. Please join us at 9:00 a.m. to testify in opposition of Right to Work.

You can also CONTACT your legislators in opposition of Right to Work. The legislative hotline is: 1-800-362-9472

Sign the petition to stop Right to Work in Wisconsin.

Republicans are planning to ram this legislation through in an extraordinary session at lightning pace. An extraordinary session changes the rules, limits debate and makes a mockery out of our democracy. A Right to Work bill could pass both houses and be signed into law by the Governor in days.

Making Wisconsin a Right to Work state will not create jobs. Claimed advantages of Right to Work are unproven. Nationally recognized economists agree Right to Work provides no discernible economic advantage. By lowering wages, Right to Work would weaken consumption and may undermine Wisconsin's small businesses which depend on workers having wages to spend.

Stand up, fight back, participate in democracy. Join us at the Capitol.


We need all hands on deck. Add your name to this petition to stand firm against Right to Work.

We need everyone speaking out and educating their friends, neighbors and legislators on the harmful impact to all workers of Right to Work legislation.

Sign and share the petition today.



Right to Work cripples the fundamental right of every American to join together, stick together and have a meaningful voice in the workplace. Without healthy unions, workers miss out on the chance to "have each other's backs" and bargain for fair wages. Union negotiated wages and working conditions help all workers, union and non-union.

Let's be clear, without unions, the promise of the American Dream quickly slips away from hard-working Americans.